Paratrooper Returns with Message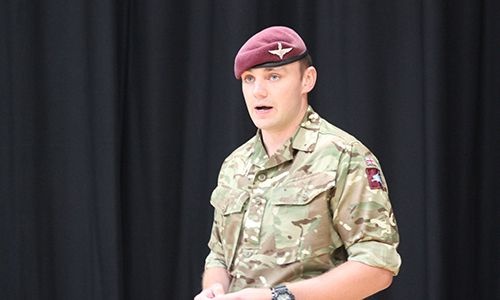 Haygrove School were delighted to welcome back ex-student Ben McCall who visited his old school to talk to students about his journey to becoming a professional paratrooper. Ben also talked openly and honestly about his recent experiences in Afganistan where he worked to secure the safe evacuation of entitled people from Kabul. introduction for your news story here.
Ben left Haygrove in 2015 after, by his own admission, spending many of his school days defying his teachers and messing about rather than focussing on lessons. Reflecting on this, he told the assembled Year 10 students that, whilst you have to be true to who you are in life, on reflection he wishes he had taken school a bit more seriously and recognised at the time the value of what school and teachers can offer not only for passing exams but how to become a responsible citizen. He stressed the importance of the personal, moral and ethical values that are central to the school curriculum and expected behaviour both in and outside of school.
In particular Ben explained how Haygrove's commitment to character education was very similar to some of the important values held by the Parachute Regiment.
'In so many ways what Haygrove School are teaching is played out everyday in the life of paratrooper. I needed huge amounts of confidence and resilience to get through the tough Pegasus Company Test Week and secure my place in this elite Regiment, especially as I suffered an injury which left me in rehab for 7 months.
For me, discipline was probably the hardest, but most important, quality I had to learn to succeed as a paratrooper, alongside realising that I had to find ways to be tolerant of colleagues I perhaps did not always see eye to eye with. Confidence, resilience and tolerance are three character traits that are hugely important to me now, alongside having compassion and respect for other people, whatever their background or circumstances, and recognising that reflecting on your experiences is a valuable way of understanding what you have learnt as well as crucial to protecting your mental health.
My advice to anyone would be, if you have a question or a problem you can't deal with, put your hand up and ask for help and advice. None of us can get through hard times alone."
As well as speaking at morning assembly, Ben spent time one-to-one with some year 10 students who were particularly keen to learn from his experiences and also provided further insight into life as a paratrooper at a breaktime workshop for boys or girls interested in a career in the military.