Haygrove School receive top marks for their Careers Programme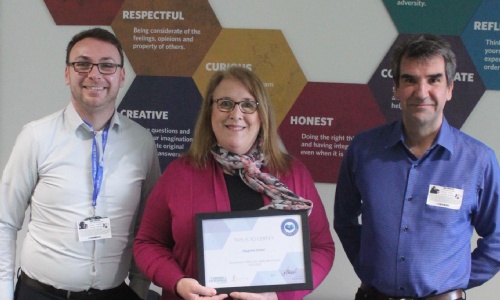 Haygrove School has been recognised for their Careers Programme led by Claire Morgan for achieving the highest marks available with 100% scores across the eight Gatsby benchmarks.
These were developed on behalf of the Gatsby Foundation by Sir John Holman. They define what world-class careers provision in education looks like and provide a clear framework for organising the careers provision at schools or colleges.
Haygove School is currently ranked joint 1st of the 154 schools and colleges who are part of the Heart of the South West Careers Hub. The Heart of the South West Careers Hub is one of the largest careers hubs in England, established in collaboration with The Careers and Enterprise Company to help transform careers education for young people across the southwest. They work with every state-funded secondary school, special educational needs school, alternative provision & post 16 college, helping them to link with local employers to develop and deliver high quality careers support to all their students.
Claire Morgan explains why careers advice is so important. "Students at the school access an impartial, comprehensive careers service that supports all young people in making informed choices and encourage everyone to participate in work experience. Our events including Careers Fairs, Careers Days, regular assemblies and further education visits, which help students start to think about their pathways and subject choices. We offer practical support with CV writing and hold mock interviews with local employers. This is all to help our students feel more informed and confident about opportunities available to them. We want them to recognise the skills and abilities they have, appreciate what they are good at as well as what they enjoy, and understand how their talents can be applied in the future. We are grateful to former students who often come back to share their career journeys with our current students and provide tangible case studies."
Mr Aaron Reid, Headteacher at Haygrove School, is delighted with the news, "We are exceptionally proud of everything that Claire Morgan has achieved with the careers provision at Haygrove School so far. We have made a commitment that all of our students will follow a path into further education and employment. 100% score in the Gatsby Benchmarks is a very important part of that and will motivates us even further to continue to give every child the same excellent opportunities."
Rob Morrish from the Careers and Enterprise Company presented Claire with the award. "It was my absolute pleasure to present Haygrove School their certificate for achieving 100% on the 8 Gatsby Benchmarks. Claire has done a fantastic job as Careers Leader and is well support by Guy, her Enterprise Adviser. Plans are in place to continue to develop the provision to ensure the students are receiving the best careers education experience possible so they can make informed decisions about their next best steps."